Like many Value Village customers, I was quite excited at the prospect of visiting their brand new location, a 30,000 square foot store in Queensborough, New Westminster. Upon my arrival I was utterly dismayed to pull into the brand new parking lot and see that Value Village has zero accessible parking spaces. I was shocked that a company would exclude accessible parking. This carries a very strong message to consumers with disabilities, stating "you money is not valued here".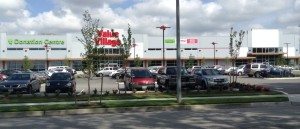 I spoke with a store manager, to find out why Value Village, particularly a brand new Value Village, chose not to include accessible parking spaces in their design. She told me that New Westminster only requires two accessible parking spaces per parking lots of one hundred spaces or less, and the vacant store next door to Value Village has two accessible parking spaces. I was dumbfounded. Value Village felt that the spaces in front of a store next to them was enough for the parking lot, so they did not add any for their own customers.
The purpose of accessible parking spaces is to offer parking as close as possible to the entrance for consumers who are unable to walk long distances, or as a safety measure for people with mobility devices and/or working dogs. Value Village's decision to have the store next to them fill the quota for the parking lot, and not offer any for their own store, and their own customers, is a strong indication that they are not truly considering their customers with disabilities, their walking abilities or their safety. And that is truly shameful!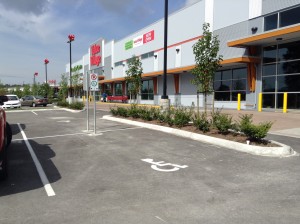 Twenty percent of British Columbians self-identify as having a disability. In addition, our aging population is filled with people who experience age-related health issues. Both of these groups are consumers. Both of these groups require access to parking close to the entrances of stores. Both of these groups are being given a very strong message by Value Village's conscious decision to exclude accessible parking at their new location.
The shopping area in Queensborough is filled with big box stores, and the majority offer many accessible parking spaces. Next door to Value Village is Lowe's Home Improvement Warehouse. Lowe's provides their customers with disabilities with ten accessible parking spaces at their front entrance, and another eight at their garden centre. It is obvious that Lowe's values their customers with disabilities. The parking spaces are brightly marked, with contrasting colours, big blue symbols of accessibility that indicate only people with a parking placard can park there, and both groupings of accessible parking are provided with a well marked, safe path in between the spaces, off the road, as well as a crosswalk from the parking spaces to the entrances.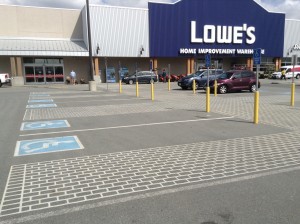 At first I thought that Lowe's, and other companies within Queensborough, had such amazing amounts of accessible parking spaces because they are American companies, who bring the laws of the Americans with Disabilities Act to their Canadian stores, but then I found out that Value Village is also an American store, which indicates that only some decide to value their customers in Canada, with the same values as they do in the United States, and Value Village is not such a store.
It is extremely disappointing when a company decides that they needn't take into consideration the safety, accessibility, and needs of their customers with disabilities, simply because the law or building code has been satisfied, and they feel they needn't do more. It is all the more disappointing when it is a brand new build, in which they had control over the design of the parking lot.
Citizens for Accessible Neighbourhoods will be contacting Value Village to express our shock and displeasure at their decision to ignore the parking needs of their customers with disabilities. If you would like to share your opinion with them as well, email them at customercare@savers.com